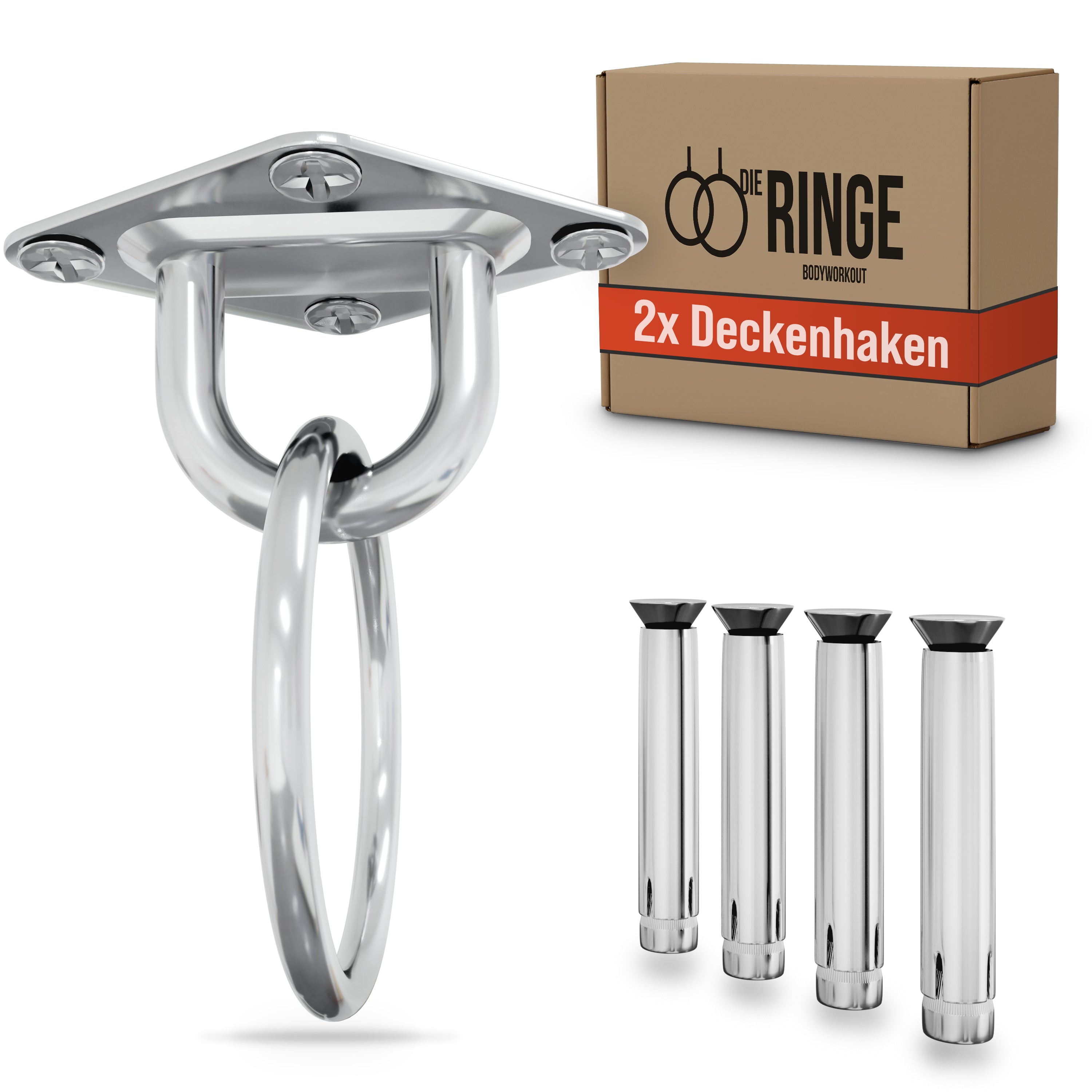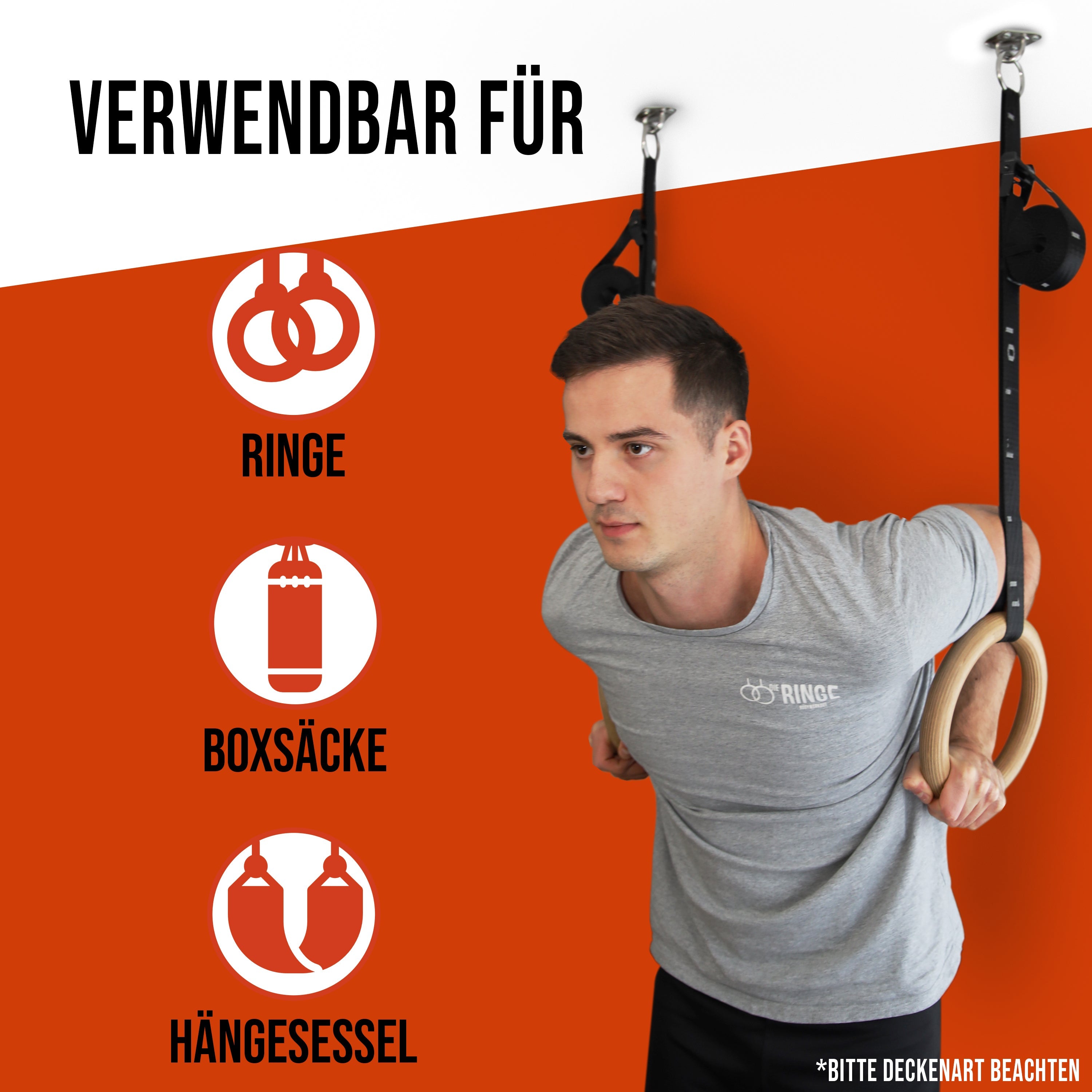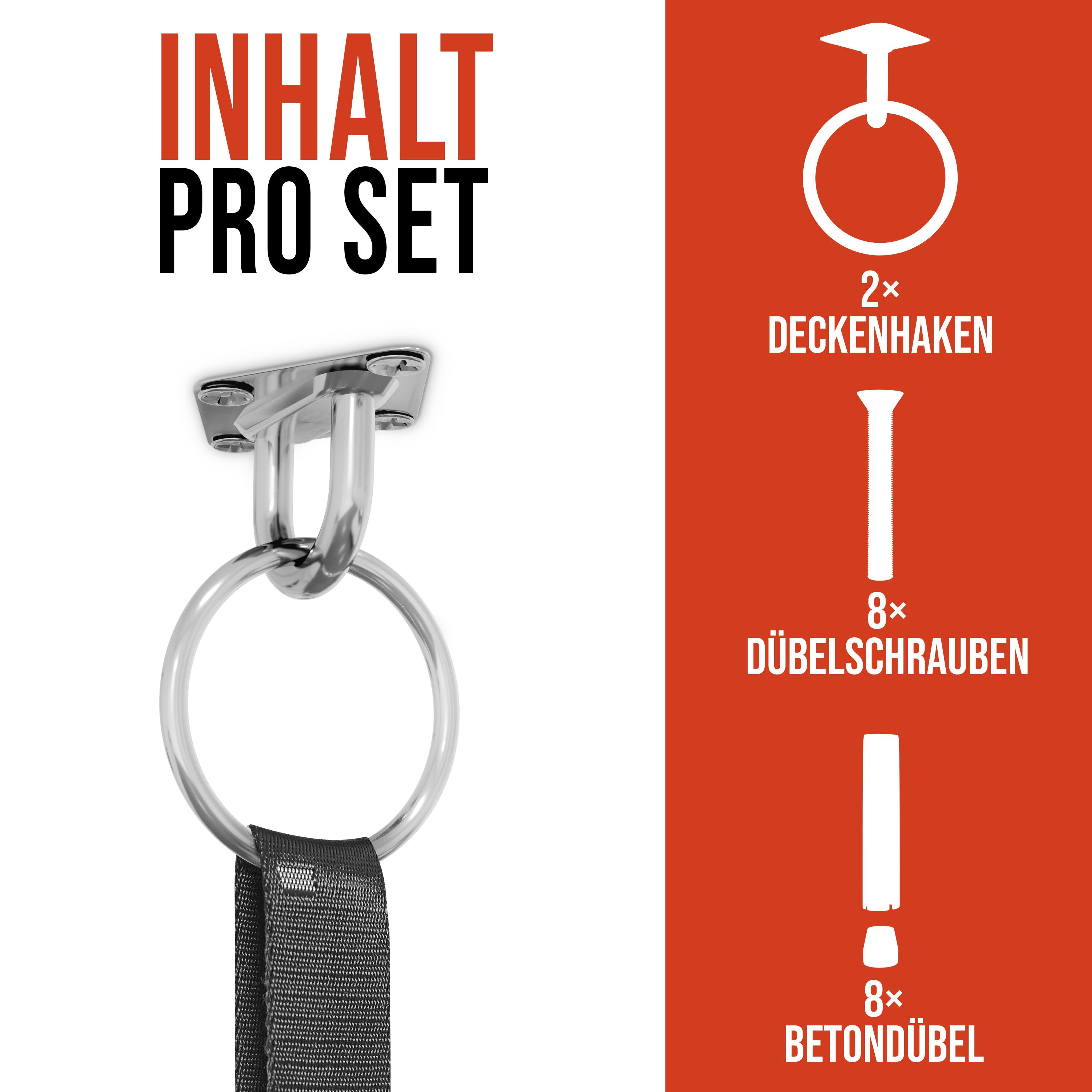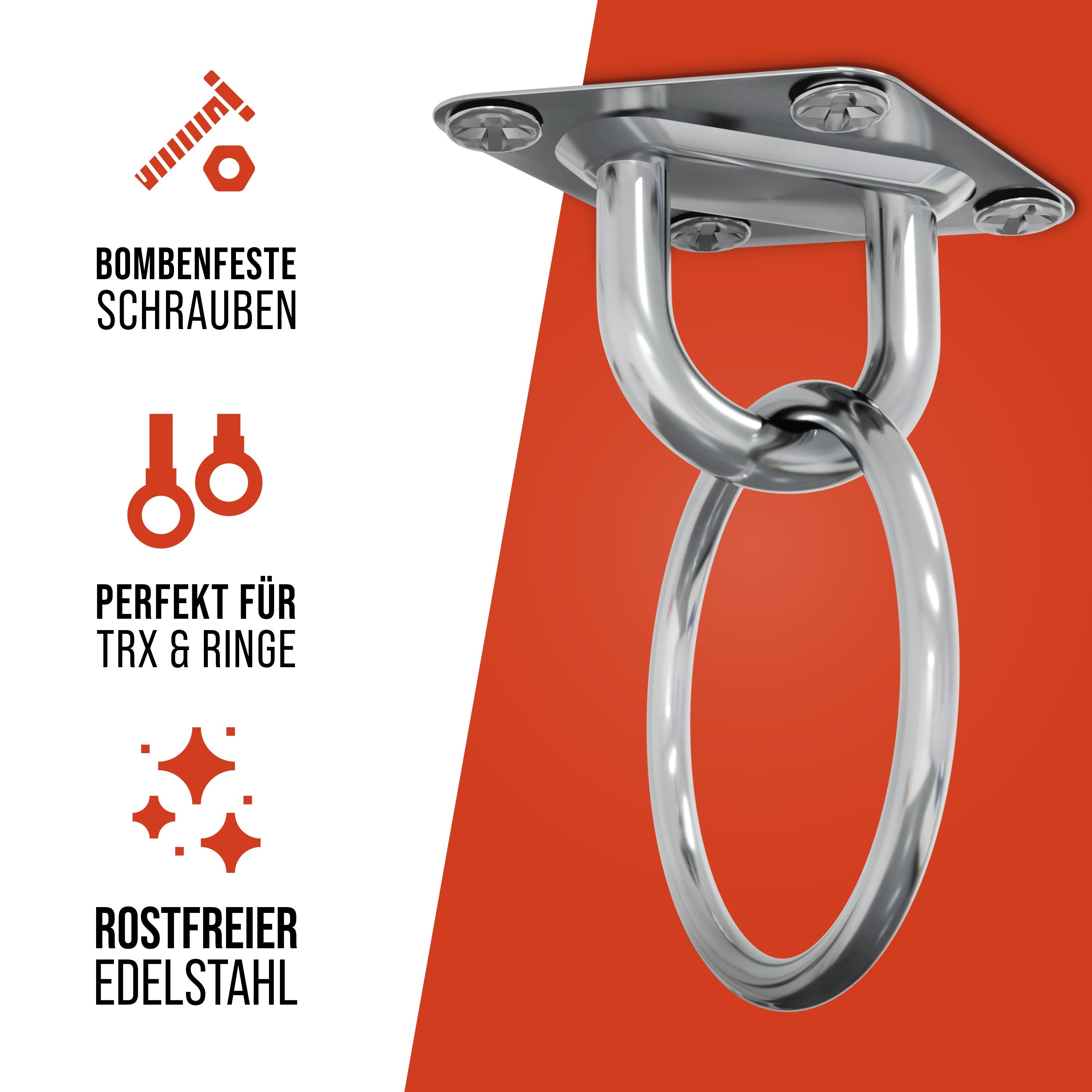 Ceiling hook set - gymnastic rings ceiling attachment
With the DIE RINGE ceiling hook set you can attach gymnastic rings at home. The set consists of two ceiling hooks including heavy-duty anchor for mounting on solid concrete ceilings.
DIE RINGE ceiling hook set

- large anchor plate made of high quality 304 stainless steel
- extra large & movable ring (70 mm) for maximum mobility
- including eight safe heavy duty anchors for solid concrete
- individually usable for gymnastic rings, punching bag, sling trainer and co.

HIGH QUALITY HEAVY LOAD CEILING HOOK - with enclosed concrete dowels, the ceiling hooks are the ideal basis for training with gymnastic rings at home

SAFE & RELIABLE - extra durable 304 stainless steel provides extra safety against corrosion and ensures extra long lasting ceiling hooks

EXTRA LARGE RING - for maximum clearance to securely attach gymnastic rings to the ceiling, among other things. The buckle of the straps fits through the ring and the straps themselves lay flat and do not kink.

UNIVERSAL USE - ideal mounting option for gymnastic rings, but also suitable as a holder for a swing, for punching bags, hanging cave, hanging lamp, sun sail, hanging chair, hammock, sling trainer, yoga towel, sling trainer, swing and much more.

EASY ASSEMBLY - suitable for any suspension and includes the appropriate mounting hardware in each set. The enclosed assembly instructions explain the uncomplicated installation in detail. A digital instruction with moving pictures can be found here. (Attention: We made a typing error in the enclosed instructions. The drill holes must have a diameter of 12mm).

YOU NEED - the following tools for the assembly: a strong drill, a 12mm drill bit, possibly an 8mm drill bit for pre-drilling, a cross screwdriver.

SUSTAINABLE - For every product sold, we plant a tree in cooperation with EDEN Reforestation Projects to reduce our carbon footprint and get closer to our goal of becoming a carbon neutral company.

INCLUDED IN THE SET - 2 ceiling hook plates with ring diameter 70mm, 8 concrete heavy duty dowels + dowel screws (diameter 12mm).

Germany: 2-3 days

EU: 5-10 days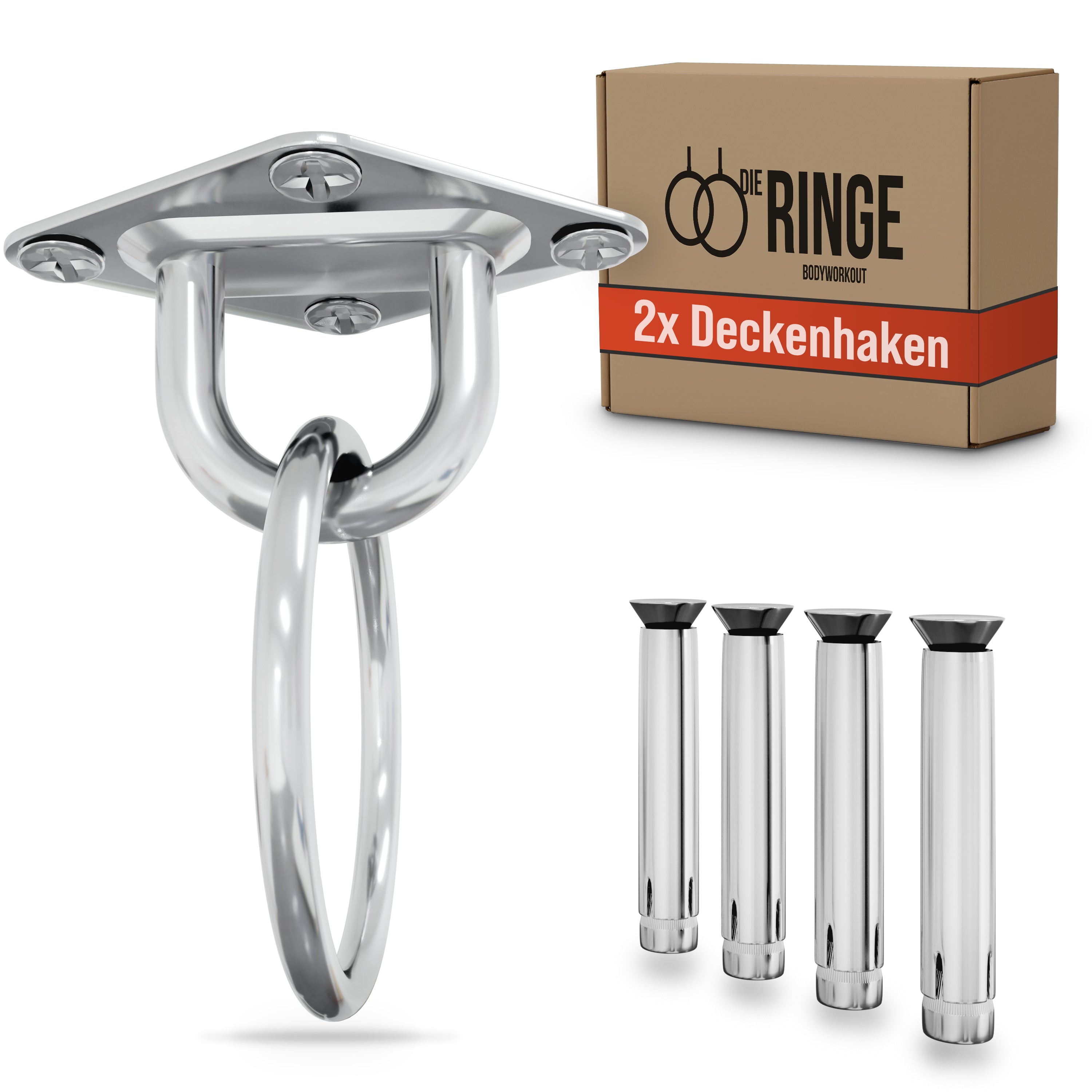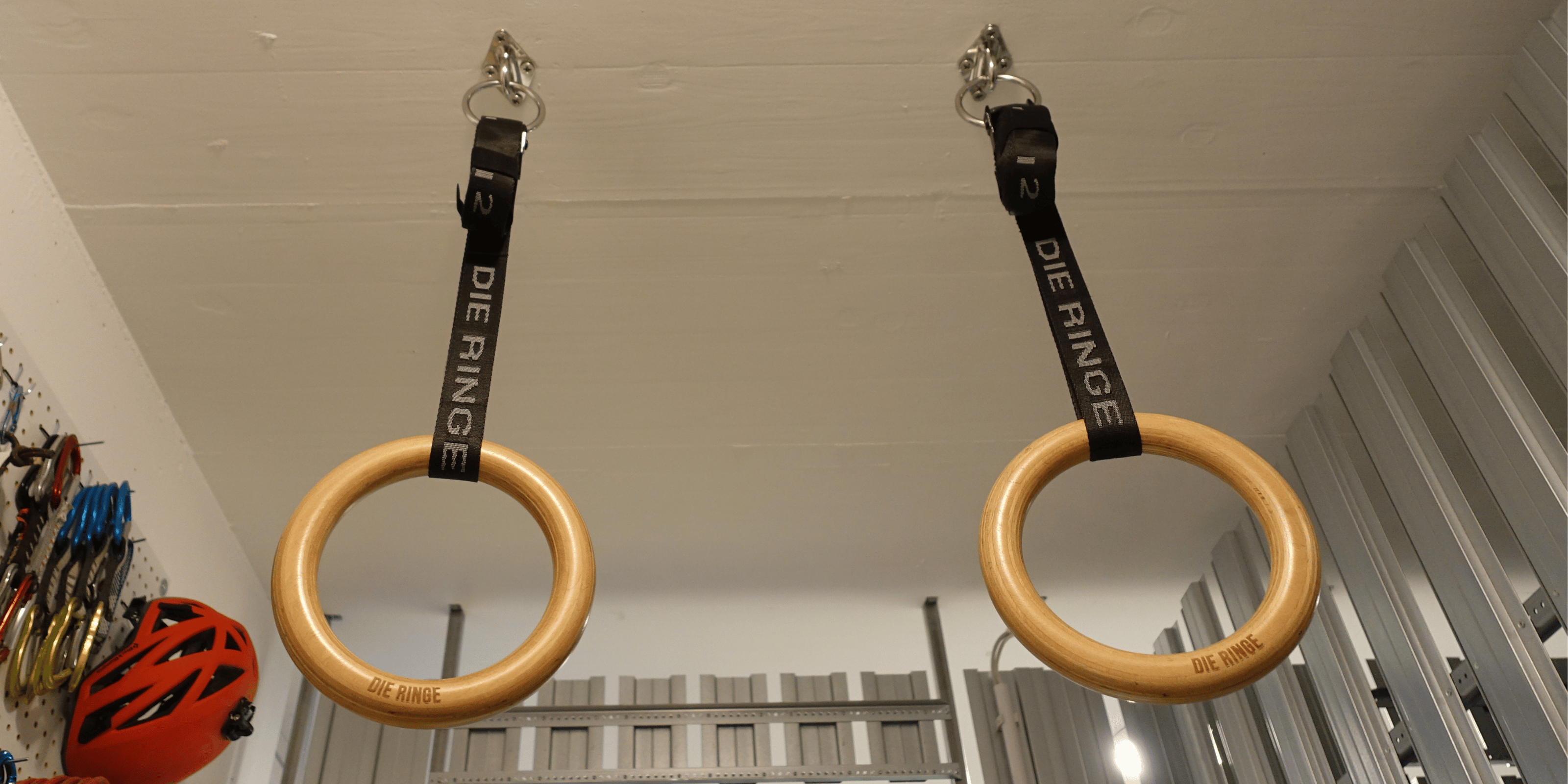 This product has no reviews yet.
What options are there for hanging up gymnastic rings at home?
To be able to use the gymnastic rings in the apartment or in your own four walls, there are several options. On the one hand, there is the option to install a wall bar and hang your rings there on the top protruding rung. Similarly, you can use a wall-mounted pull-up bar. With both options you probably have the disadvantage that the rings hang very low and you can not train all exercises optimally. In addition, with both variants you have little distance to the wall, which can limit your training. The optimal solution is the mounting on the ceiling with the help of our ceiling hooks. This way you can use the maximum room height and mount the ceiling mounts for gymnastics rings so that no wall disturbs you during training.

What is the purpose of the movable ring on the ceiling hooks?
The movable ring made of stainless steel allows your gymnastic rings in the apartment the maximum mobility. If you set the rings in a high position, the gymnastic rings can still be rotated perfectly despite the short straps. With our ceiling mounts, the ring is so large that you can even pass the buckles of the straps through it. In addition, the large ring provides a flat support surface and your straps hardly wrinkle.

Your optimal gym rings setup for home
You want to have the gymnastic rings for home and do not know yet exactly how much space you need for ring training? Then here we give you some guidelines on how to properly plan the rings at home and install the ceiling mounts so that they are in the right place. In order to perform all exercises without restrictions, you should plan at least one meter distance from the nearest wall in all directions. In at least one direction, you even need three to four meters of space to be able to perform exercises such as rowing or push-ups in an inclined position.

How high must be the ceiling height for gymnastic rings for unrestricted training
With a ceiling height of about 2.60m, the length of the straps is perfect for performing exercises in a low position. If your ceiling is lower, for example, because you want to install the rings in the basement, this is not a big disadvantage. Almost all ring exercises can be adjusted and you can perform, for example, pull-ups with bent legs. If the ceiling height is higher than 2.60m, you won't be able to do exercises in low position, like push-ups, properly. In this case, you can help yourself out with another pair of straps or bridge the way with a chain or rope.
What is the distance between the gymnastic rings?
In gymnastics, the rings hang exactly 50 cm apart. If you want to mount the gymnastics rings at home, we recommend that you also keep this distance of the ceiling hooks when mounting. You can of course adjust the width to your personal needs, but small deviations from the norm are hardly noticeable in training, because the rings will move freely in space. Therefore, the distance of the gymnastic rings is also perfectly suitable for children.
Can I mount the ceiling hooks on a wooden ceiling or beam?
With the enclosed heavy-duty anchors, only the installation of the ceiling brackets on a solid concrete ceiling is possible. If you want to mount the ceiling hooks on a load-bearing wooden beam or similar, you need suitable screws. It is best to get advice on this from a hardware store. You can find digital instructions on how to correctly mount rings on the ceiling here.
This product has no reviews yet.